Keynote 1: Prof. Hemanta Hazarika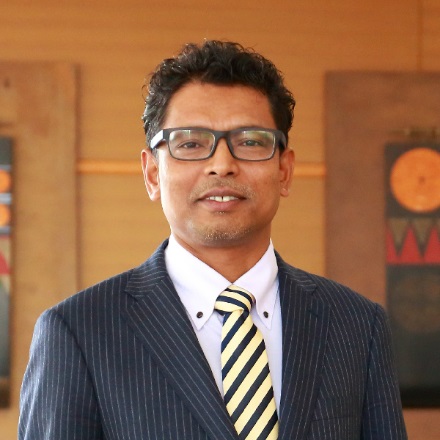 Title: "Sustainable Early Warning System for Mitigating Rainfall Induced Landslide Disasters"
Biography:
Hemanta Hazarika is currently a professor in the Graduate School of Engineering and Department of Interdisciplinary Science and Innovation, Kyushu University, Fukuoka, Japan. He obtained his Bachelor of Technology (B. Tech) degree in Civil Engineering from the Indian Institute of Technology (IIT), Madras, India in 1990. He obtained his master degree in Geotechnical Engineering in 1993 from Nagoya University, Japan and Ph. D. from the same university in 1996. Currently he is also adjunct professor of IIT Madras, India.
Professor Hazarika's research activities include disaster prevention and mitigation, soil-structure interaction, stability of soil-structures during earthquakes and tsunami, ground improvement, application of recycled waste and lightweight materials in constructions, stability of cut slopes, and landslides and their protection.
He has more than 350 technical papers in various international journals, International conferences, workshops and symposia to date. He has also authored two books on Soil Mechanics: "Soil Mechanics Fundamentals and Applications" (Published by CRC Press, USA) and its Japanese version (Published by Kyoritsu Publisher, Tokyo). In addition, Prof. Hazarika also served as the editor of four books: 1) "Advances in Sustainable Construction and Resource Management", 2) "Geotechnical Hazards from Large Earthquakes and Heavy Rainfall", 3) "Earthquake Hazards and Mitigations" and 4) "Scrap tire derived geomaterials – opportunities and challenges– ".
Professor Hazarika has several years of teaching, research as well as practical and consulting experiences both in Japan and outside Japan. He is currently a foreign expert of the world's first research center on liquefaction research called "The National Research Center for Liquefaction", which was established in Palu, Indonesia aftermath of the devastating damage by liquefaction during the 2018 Palu Earthquake. He also successfully guided a world bank project on "Improving the Resilience of Nepal's Strategic Roads Network" as the leader of the project.
He also successfully organized the first International Symposium on Construction Resources for Environmentally Sustainable Technologies (CREST 2020) in March this year. Currently, Prof. Hazarika is the chairman of Asian Technical Committee on "Geotechnical Mitigation and Adaptation to Climate Change-induced Geo-disasters in Asia-Pacific Regions" of International Society of Soil Mechanics and Geotechnical Engineering (ISSMGE).He is also founding president of a general incorporated corporation called GLOSS (Global Society for Smart Geo-Sustainnovation) which was established in August 2021.
Keynote Speaker 2: Professor Dr. Nor Azazi Bin Zakaria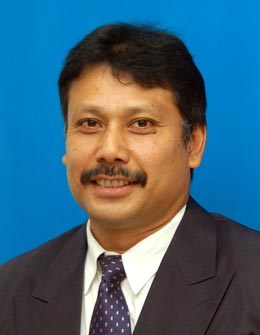 Title: "Integrated Water Resources for Sustainability Management of Stormwater Towards SDG 6"
Biography:
Prof. Dr. Nor Azazi Zakaria has served in Universiti Sains Malaysia since 1994 and received his MSc. in 1990 and PhD. in December 1994. He then established the River Engineering and Urban Drainage Research Centre (REDAC) in 2001 and has since remained as the Director. Under the leadership of Professor Dr. Nor Azazi, REDAC acts as a Self-Sustaining Centre as expected by USM in this corporatization era. REDAC is the first research centre at the USM Engineering Campus and was awarded the 1st Higher Institution Centre of Excellence (HICoE) in Service Thrust in USM as well as in Malaysia in October 2014 and received a special grant from the Ministry of Education (MOE) with a niche area on Stormwater Management. Professor Dr. Nor Azazi currently the Vice Chairman of the Executive Committee for the Malaysian Stormwater Organisation (MSO), the Malaysian National on Irrigation and Drainage (MANCID), and also UNESCO chair holder on Ecohydraulics for Sustainable Water Infrastructures for SDG 6 in the Asia and the Pacific Region. Furthermore, he has been actively organizing short courses, seminars, briefings, exhibitions, acting as guest and invited speaker and actively delivering keynotes at International Conferences in the area related to Sustainable Urban Drainage Management and Green Technology.
Keynote Speaker 3: Dr. Tetsushi Kanda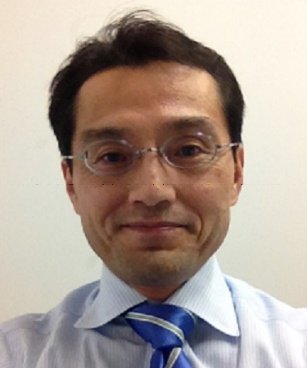 Title: "Sustainable Supply Chain in Construction Industry and Approach for Carbon Neutralization in Construction Materials"
Biography:
Dr. Tetsushi Kanda is a Deputy Director at Kajima Technical Research Institute. Dr. Kanda received his Ph.D in Civil Engineering from the University of Michigan, USA, 1998. KaTRI is well known to initiate industrializing emerging advanced structural materials in construction such as ultra high strength concrete and high performance fiber reinforced cementitious composites in its history, with which Dr. Kanda took a leading role in large scale application. Dr. Kanda's research interests are extended to shrinkage cracking controlling technologies and carbon neutral technologies for structures. In these research areas, Dr. Kanda maintains an approach in which advanced fundamental technologies are transferred to construction projects and optimized there.